04.08.2014
A wide range of practical methods and recommendations to improve conservation at regional, national and supranational scales are included in a book published as a synthesis of project outcomes. The book "
Scaling in Ecology and Biodiversity Conservation
" was published in advanced open access via Pensoft Publisher's
Advanced Books
platform. This innovative format aimed at accelerating data publishing, mining, sharing and reuse, offers a range of semantic enhancements to book contents, including external sources.
Results are also presented in an easy to use interactive
SCALETOOL
, specifically developed for the needs of policy and decision-makers. The tool also provides access to a range of biodiversity data and driver maps compiled or created in the project.
Human actions, motivated by social and economic driving forces, generate various pressures on biodiversity, such as habitat loss and fragmentation, climate change, land use related disturbance patterns, or species invasions that have an impact on biodiversity.
Each of these factors acts at characteristic scales, and the scales of social and economic demands, of environmental pressures, of biodiversity impacts, of scientific analysis, and of governmental responses do not necessarily match. However, management of the living world will be effective only if we understand how problems and solutions change with scale.
'The book and the tool are the first of their kind and would be of great help to everyone concerned with the conservation of biodiversity. They provide ideas of how to handle complex issues of scaling in applied and theoretical environmental studies' says the chief editor Prof. Klaus Henle.
The book aims to bundle the main results of SCALES in a comprehensive manner and present it in a way that is usable not only for scientists but also for people making decisions in administration, management, policy or even business and NGOs; to people who are more interested in the "practical" side of this issue.
Guidelines, practical solutions and special tools are also presented as a special web based portal, SCALETOOL, which puts together scientific outcomes widely spread over the scientific literature.
###
Original Source:
Henle K, Potts S, Kunin W, Matsinos Y, Simila J, Pantis J, Grobelnik V, Penev L, Settele J (Eds) (2014) Scaling in Ecology and Biodiversity Conservation. Advanced Books: e1169. doi:
10.3897/ab.e1169

24.07.2014
The message will be presented to world leaders on the occasion of the Climate Leaders' Summit, convened by UN Secretary-General Ban Ki-moon at the United Nations, New York City, on September 23, 2014. The SDSN calls for organsations and individuals in the field to
add their name
alongside many of the world's leading scientists and climate experts.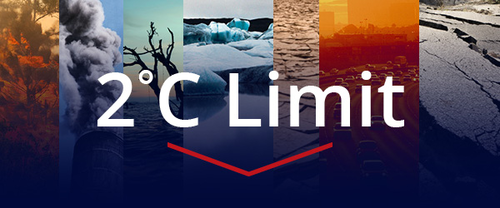 Launched by UN Secretary-General Ban Ki-moon in August 2012, the Sustainable Development Solutions Network (SDSN) mobilizes scientific and technical expertise from academia, civil society, and the private sector in support of sustainable development problem solving at local, national, and global scales. The SDSN works closely with United Nations agencies, multilateral financing institutions, the private sector, and civil society.
The scale of the global sustainable development challenge is unprecedented. The fight against extreme poverty has made great progress under the Millennium Development Goals (MDGs), but more than 1 billion people continue to live in extreme poverty. Inequality and social exclusion are widening within most countries. As the world population is estimated to rise to 9 billion by 2050 and global GDP to more than US$200 trillion, the world urgently needs to address the sustainable development challenges of ending poverty, increasing social inclusion, and sustaining the planet, which must be underpinned by good public and private governance.
The organization and governance of the SDSN aims to enable a large number of leaders from all regions and a diverse set of backgrounds to participate in the running of the network while at the same time ensuring effective structures for decision making and accountability.
24.07.2014
The Spiral Project Handbook: Effective interfaces between science, policy and society was developed as part of the
SPIRAL
project. SPIRAL is an interdisciplinary research project that studies science-policy interfaces between biodiversity research and policy to draw lessons and improve the conservation and sustainable use of biodiversity.
This handbook provides a manual for projects and individuals interested in designing or improving interfaces between science, policy and society. It is challenging – but important – to establish appropriate connections between the diverse insights and perspectives of scientists and other knowledge holders, and the needs and interests of decision-takers, implementers and other knowledge users. These connections and interactions are the "science-policy interface" (SPI). Designing and improving SPIs of EU-funded research projects is the aim of this handbook.
The handbook is structured around five main issues. It starts with a brief introduction to what SPIs are, and what they are not. Then moves on to the issue of why SPIs are needed before looking at certain important attributes of SPIs, namely credibility, relevance, legitimacy and iterativity. In the next part of the handbook, some steps and recommendations for designing, maintaining and improving the SPIs of EUfunded research projects are outlined. As part of this some factors facilitating successful SPIs are discussed.
SPIRAL was funded under the EU 7th Framework Programme, contract number 244035.
Original Source:

18.06.2014
Responses will face challenges with high warming of the climate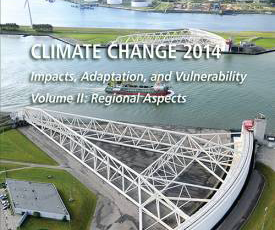 The Intergovernmental Panel on Climate Change (IPCC) issued a report today that says the effects of climate change are already occurring on all continents and across the oceans. The world, in many cases, is ill-prepared for risks from a changing climate. The report also concludes that there are opportunities to respond to such risks, though the risks will be difficult to manage with high levels of warming.
The report, titled Climate Change 2014: Impacts, Adaptation, and Vulnerability, from Working Group II of the IPCC, details the impacts of climate change to date, the future risks from a changing climate, and the opportunities for effective action to reduce risks. A total of 309 coordinating lead authors, lead authors, and review editors, drawn from 70 countries, were selected to produce the report. They enlisted the help of 436 contributing authors, and a total of 1,729 expert and government reviewers.
The report concludes that responding to climate change involves making choices about risks in a changing world. The nature of the risks of climate change is increasingly clear, though climate change will also continue to produce surprises. The report identifies vulnerable people, industries, and ecosystems around the world. It finds that risk from a changing climate comes from vulnerability (lack of preparedness) and exposure (people or assets in harm's way) overlapping with hazards (triggering climate events or trends). Each of these three components can be a target for smart actions to decrease risk.
"We live in an era of man-made climate change," said Vicente Barros, Co-Chair of Working Group II. "In many cases, we are not prepared for the climate-related risks that we already face. Investments in better preparation can pay dividends both for the present and for the future."
Adaptation to reduce the risks from a changing climate is now starting to occur, but with a stronger focus on reacting to past events than on preparing for a changing future, according to Chris Field, Co-Chair of Working Group II.
"Climate-change adaptation is not an exotic agenda that has never been tried. Governments, firms, and communities around the world are building experience with adaptation," Field said. "This experience forms a starting point for bolder, more ambitious adaptations that will be important as climate and society continue to change."
Future risks from a changing climate depend strongly on the amount of future climate change. Increasing magnitudes of warming increase the likelihood of severe and pervasive impacts that may be surprising or irreversible.
13.06.2014
In the context of the EU Adaptation Strategy, the new EU Adaptation Initiative for cities – Mayors Adapt- is being launched in March 2014 through which local authorities can make a voluntary commitment to adopt local adaptation strategies and awareness-raising activities. It foresees the introduction of climate change adaptation within the framework of the Covenant of Mayors, building upon the success of the previous Commission (DG CLIMA)'s pilot project, EU Cities Adapt, and linking with the existing EEA online platform, Climate-Adapt. It builds further on the succeses of these, but removes previous thresholds and barriers for local authorities to get engaged (more flexibility within the requirements etc).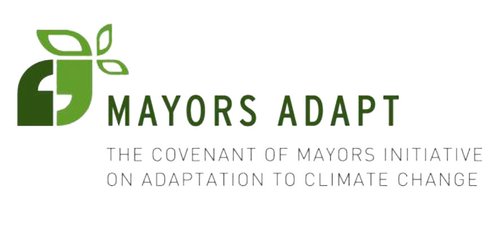 All information about Mayors Adapt can be found in the documents below.
13.06.2014
Temperature is a main driver for most ecological processes, and temperature time series provide key environmental indicators for various applications and research fields. High spatial and temporal resolutions are crucial for detailed analyses in various fields of research. A disadvantage of temperature data obtained by satellites is the occurrence of gaps that must be reconstructed. Here, we present a new method to reconstruct high-resolution land surface temperature (LST) time series at the continental scale gaining 250-m spatial resolution and four daily values per pixel. Our method constitutes a unique new combination of weighted temporal averaging with statistical modeling and spatial interpolation. This newly developed reconstruction method has been applied to greater Europe, resulting in complete daily coverage for eleven years. To our knowledge, this new reconstructed LST time series exceeds the level of detail of comparable reconstructed LST datasets by several orders of magnitude. Studies on emerging diseases, parasite risk assessment and temperature anomalies can now be performed on the continental scale, maintaining high spatial and temporal detail. We illustrate a series of applications in this paper. Our dataset is available online for download as time aggregated derivatives for direct usage in GIS-based applications (Reconstructed MODIS Land Surface Temperature Dataset - http://gis.cri.fmach.it/eurolst/).
Source: Metz M, Rocchini D, Neteler M. (2014) Surface Temperatures at the Continental Scale: Tracking Changes with Remote Sensing at Unprecedented Detail.Remote Sensing 6(5): 3822-3840. doi: 10.3390/rs6053822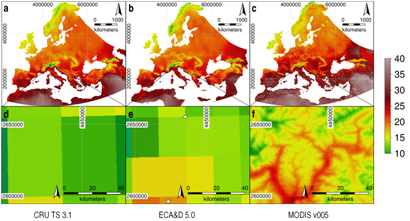 11.06.2014
By Michael Graham Richard (Treehugger.com)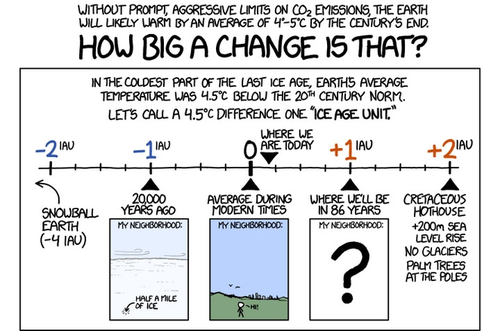 Randall Munroe of the XKCD webcomic has tried to better visualize how what might seem to be relatively small temperature differences can lead to big changes on our planet. He uses 4.5 degrees celsius (8°F) as a unit of measurement, showing on the negative side how just 1 of those units was enough to create an ice age and burrow his neighborhood (he lives in Boston) under half a mile of ice. Minus 4 of those units and you reach snowball Earth, with ice from pole to pole. more ...
30.04.2014
The first IMPRESSIONS Modeller's Meeting took place between 14-16 April 2014 in London, UK to develop a detailed work plan for the climate change impact, vulnerability and adaptation modelling within the project.
The target of the meeting was to formulate an integrated modelling framework and to design protocols for implementing that framework. These protocols aim to include an initial set of model runs that are linked to the requirements of the five multi-scale case studies and the different IMPRESSIONS Work Packages.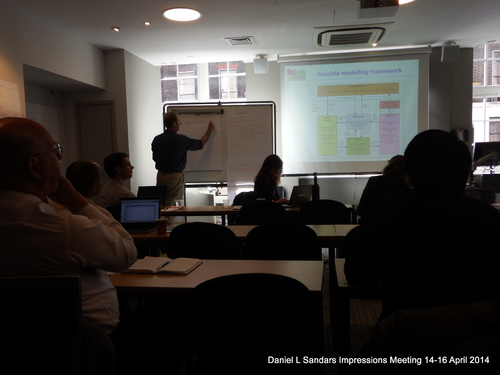 A conceptual framework for the modelling was agreed during the meeting and a work plan was drafted to further develop these first steps into a detailed modelling framework, which specifies the linkages between scenarios, sectoral and cross-sectoral models and scales of application across the five case studies (global, Europe, Iberia, Scotland and Hungary).
IMPRESSIONS includes a suite of existing climate change impact and adaptation models from European and international centres of excellence, including global and regional integrated assessment models, process-based models, simplified meta-models and mixed qualitative-quantitative participatory models. These will be combined with new models that overcome the limitations of conventional impact models, which fail to account for individual behaviour in the real world. These agent-based models will simulate adaptation as a process driven by the behaviour of individual decision-makers, firms and institutions that can learn and interact with each other.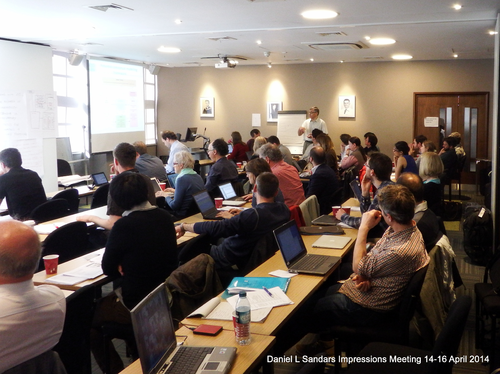 The modelling work in IMPRESSIONS will explore policy and management approaches for developing and implementing integrated solutions under high-end climate change, which harmonise adaptation and mitigation strategies with sustainable development across multiple sectors and scales. The outputs from this modelling work are likely to offer a new set of reasons for people and organisations to reconsider their approach to climate change policies and actions, including a more precise justification for early, aggressive mitigation, and the reframing of the climate and development challenge.
09.04.2014
Costs of carbon emissions are being underestimated, but current estimates are still valuable for setting mitigation policy, say Richard L. Revesz and colleagues.
On 31 March, the Intergovernmental Panel on Climate Change (IPCC) released its latest report on the impacts of climate change on humans and ecosystems (see go.nature.com/ad5v1b). These are real risks that need to be accounted for in planning for adaptation and mitigation. Pricing the risks with integrated models of physics and economics lets their costs be compared to those of limiting climate change or investing in greater resilience.
Last year, an interagency working group for the US government used three leading economic models to estimate that a tonne of carbon dioxide emitted now will cause future harms worth US$37 in today's dollars
Nature (2014) 508: 173–175. doi: 10.1038/508173a
11.03.2014
The large-scale European Union FP7 funded project IMPRESSIONS (Impacts and Risks from High-End Scenarios: Strategies for Innovative Solutions) is holding its official Kick-off Meeting from 13 to 15 January 2014 in Oxford, United Kingdom.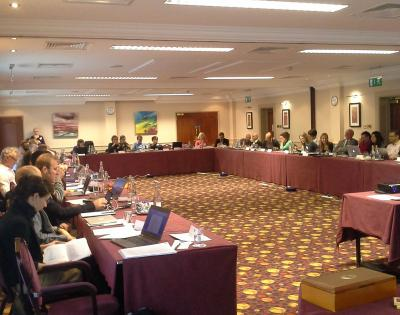 An international team of 27 research institutions from 18 countries will join forces to answer one of the hottest questions of our time, namely what will be the future of humankind and nature if climate continues to change at an unforeseen scale. The aim of IMPRESSIONS is to advance understanding of the consequences of high-end climate change and to evaluate how such knowledge can be embedded within effective and integrated adaptation and mitigation decision-making. In so doing, IMPRESSIONS will provide scientifically robust and policy-relevant information on the more extreme and long-term consequences of climate change to inform adaptation planning.
"Although, the United Nations Framework Convention on Climate Change recognised that increases in global temperature should be below 2 degrees Celsius to avoid severe impacts, current emission trends suggest that limiting warming to the 2 degrees Celsius target will be difficult to meet. Indeed, without significant reductions in emissions, projections point to much more substantial warming. Despite the increasing plausibility of these high-end scenarios, there are few studies that assess their potential impacts, the ability of adaptation options to reduce vulnerabilities, and the potential synergies and trade-offs between adaptation and mitigation." explains the project coordinator Dr Paula Harrison, University of Oxford.
Lately we are witnessing many extreme weather events which affect every sphere of human life. Last week the USA have been experiencing severely cold weather where temperatures have dropped to -50 degrees Celsius in some States. At the same time, many areas of the UK have been hit by very strong winds and high waves that have caused widespread flooding and the evacuation of thousands of people. Extreme weather events may increase in frequency under high-end climate change. Thus, there is an urgent need for decision-makers to have access to more reliable scientific knowledge on such highly uncertain, but socio-economically important, futures. The new knowledge developed by the project will not only focus on the EU, but will consider interdependencies – or shared vulnerabilities – with countries beyond the EU's borders, for example through food and resource supply chains or effects on large-scale migration.
To achieve its goals IMPRESSIONS will:
develop a novel stakeholder-driven methodology to create an integrated set of high-end climate and socio-economic scenarios;
apply these scenarios to a wide range of existing and new models of impacts and adaptation in five case studies covering global, European and regional/local (Scotland, Iberia and Hungary) scales;
embed the impacts modelling work within an innovative, integrated assessment approach which advances analysis of multi-scale and cross-sectoral synergies and trade-offs for adaptation planning;
work with public and private decision-makers in each case study to develop adaptation and mitigation pathways;
communicate the results to a broad community of stakeholders to enhance current approaches to climate change policies and actions.
The project will work together with two sister initiatives, HELIX and RISES-AM, to share the latest state-of-the-art research on the consequences of high-end climate change.
"Members of the HELIX project look forward to working closely with IMPRESSIONS and RISES-AM towards our common aims of assessing potential impacts of high-end climate change. Between us we will look across the whole globe as well as in detail in specific regions, and by coordinating our work and comparing and contrasting our methods and conclusions, we will be able to maximise our resources and assess the reliability of our conclusions." comments Prof Richard Betts, HELIX project coordinator.
11.03.2014
Scotland to be case study for IMPRESSIONS: A new EU funded 9 million euro research project will quantify risks and impacts associated with high-end (extreme) climate and socio-economic scenarios
The most extreme climate change projections could result in unprecedented impacts and risks for our economy, society and environment. A new EU project involving 27 research institutions in Europe and beyond will provide critical information for developing strategies and solutions for coping with these changes.
The IMPRESSIONS (Impacts and Risks from High-End Scenarios: Strategies for Innovative Solutions) project aims to increase our understanding of the consequences of high-end climate change. The project will also help decision-makers apply this knowledge within integrated adaptation and mitigation strategies.
Scotland has been chosen as a case study for this new 5-year €9 million EU-funded project. The work will build on another recently completed EU project – CLIMSAVE - which created an interactive web-based tool for citizens and policy makers to simulate climate change impacts across multiple sectors. Scotland was used as regional case study to test the tool.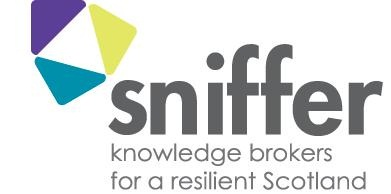 Anna Beswick, Programme manager Adaptation Scotland, said:
'Organisations across Scotland are pioneering partnership approaches to climate resilience. We have excellent academics and a strong international reputation as a country that is taking a lead on developing ways to adapt to climate change. Both CLIMSAVE and IMPRESSIONS are high profile projects that highlight and confirm Scotland's position as a world leader in climate change adaptation.'
Paula Harrison from the University of Oxford and Coordinator of the CLIMSAVE and IMPRESSIONS projects, said:
'Current trends in greenhouse gas emissions point to substantial warming, with possible increases of 4oC or more in the long term unless there is radical action to cut emissions. Despite the increasing plausibility of these high-end scenarios, there are few studies that assess their potential impacts and the options available for reducing the risks. IMPRESSIONS will work closely with Scottish stakeholders to provide robust scientific information on these highly uncertain futures, so that they can make effective adaptation and mitigation plans.'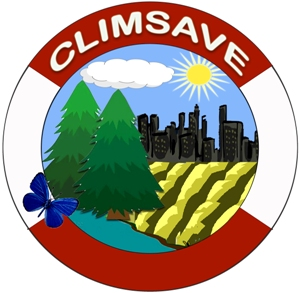 Mark Rounsevell, Project Leader for the University of Edinburgh, said:
'The range of organisations working on climate change adaptation in Scotland is a real asset to these kind of projects. In CLIMSAVE we were able to work with experts from academia and on-the-ground projects. This combination of experience in climate change adaptation work is a key to why Scotland has been chosen as a case study for the IMPRESSIONS project. This is a major project that we are all very much looking forward to contributing to.'
Minister for Environment and Climate Change Paul Wheelhouse said:
'I welcome Scotland's involvement in the IMPRESSIONS project. Recent unpredictable weather across the British Isles and further afield has demonstrated the major impact it can have - that's why it's important to look at new ways of dealing with the consequences of extreme weather, to adapt to the challenges communities face.
'The Scottish Government is showing leadership and building on progress already made to increase the resilience to the impacts of climate change by developing Scotland's first Climate Change Adaptation Programme. Severe weather events earlier in the winter demonstrated the value to communities and businesses in Scotland of having robust resilience measures in place, which prevented more significant impacts and damages.
'We take climate change extremely seriously and are working hard to help Scotland achieve our ambitious greenhouse gas emissions reduction targets and increase the resilience of Scotland's people, environment, and economy to the impacts of a changing climate based on the best possible scientific evidence.'
The results of CLIMSAVE and the plans for IMPRESSIONS will be presented at an event at the Edinburgh Centre for Carbon Innovation on Wednesday 19 February.
11.03.2014
IMPRESSIONS will:
work with decision-makers to better understand their knowledge needs and maximise their active participation in the research;

develop a novel stakeholder-driven methodology for the creation of an integrated set of high-end climate and more extreme socio-economic scenarios;

apply these scenarios to a wide range of existing and new spatially-explicit models of impacts and adaptation in five case studies covering global, European and regional/local (Scotland, Iberia and Hungary) scales;

embed the impacts modelling work within an integrated assessment approach which advances the analysis of multi-scale and cross-sectoral synergies and trade-offs;

evaluate the time- and path-dependency of adaptation and mitigation options taking account of the non-linearity, complexity and tipping points described in the scenarios and impact model results;

communicate the results to a broad community of stakeholders to enhance current approaches to climate change policies and actions.