16.02.2015
The first IMPRESSIONS stakeholder workshop dedicated to the project's Central Asia case study has now started in Almaty, Kazakhstan. The 2-day workshop is taking place on 16 & 17 February 2015. It is the first in a planned series of three workshops per case study that will take place over the project's lifetime to facilitate science-policy dialogue in relation to responding to the consequences of high-end climate change.
The Central Asia case study aims to answer questions of:
What will the implications of extreme climate change be for regional security and stability in Central Asia?

What will be the knock-on effects for Russia and China?

How can the EU best respond?
This first participatory scenario building workshop marks the beginning of the IMPRESSIONS EU External case study to explore transboundary climate change impacts on energy links, migration, agricultural exports and complex human and 'hard' security dynamics in one of the world's most contested and strategic regions.
29.01.2015
The Second IMPRESSIONS General Assembly took place from 20 until 22 January 2015 in the meeting rooms of the beautiful Casa Convalescència, at the UAB Campus, Barcelona. Climate change impact, adaptation and mitigation experts from 30 institutions got together to discuss the possible implications of high-end climate change (i.e. beyond +2oC).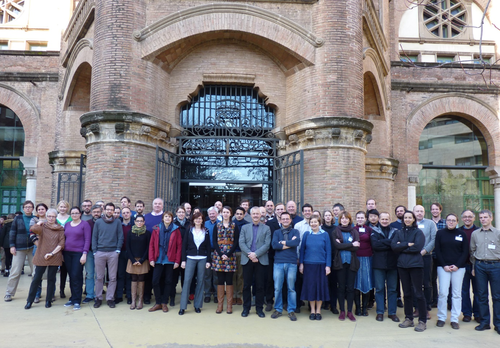 Participants at the 2nd IMPRESSIONS General Assembly, Barcelona, Spain.
After the IMPRESSIONS official kick-off meeting held in January last year, the project has progressed many conceptual and theoretical aspects of its work programme related to the development of multi-scale climate and socio-economic scenarios of the future, their application to climate change impact models, how this can inform the assessment of different adaptation and mitigation pathways for society, and thereby support decision-making under such highly uncertain futures.
Following progress reports from each of the project's work packages and case studies, intensive discussion on specific topics took place. These included:
the process for stakeholder engagement at the 1st set of workshops in each case study which will focus on the development of socio-economic scenarios up to 2100;
the process for stakeholder engagement between the 3 sets of stakeholder workshops in each case study;
detailed planning for the EU external (central Asia) case study workshop which takes place next month in Almaty, Kazakhstan;
development of protocols for application of impact models to different scenario futures whilst understanding model sensitivity, robustness and uncertainty;
evaluation of the appropriateness of existing approaches for analysing costs and benefits under high-end scenarios;
development of the methodology for stress-testing existing policies in case studies to high-end climate change;
further development of the different components of the methodology for developing adaptation and mitigation pathways, such as actions, strategies, transformation, transformability, capacities and capitals, resilience, vulnerability and visions; and
review of the wildcards that will be used to stress-test the adaptation and mitigation pathways in the 3rd set of stakeholder workshops in each case study.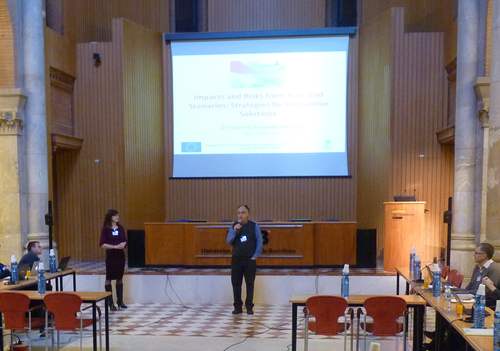 Project Coordinator Dr. Paula Harrison, University of Oxford and meeting organizer Dr. J. David Tábara, giving an opening talk at the IMPRESSIONS 2nd General Assembly meeting
During the meeting the work of the two IMPRESSIONS' sister projects HELIX and RISES-AM- was also presented. More about the projects can be found here: http://highendclimateresearch.eu/
19.12.2014
Two IMPRESSIONS workshops were held on 10 &11 December 2014 in Veszprém and Szekszárd, Hungary, to discuss recent project activities and next steps, as well as to learn about key stakeholder issues and activities related to climate change. Participants at the workshops included local and regional environmental experts and decision makers.
During the workshops, the project was presented to stakeholders, giving a general overview of IMPRESSIONS' aims and objectives, as well as providing an update on its current status. Some of the models used in the Hungarian case study to explore climate change impacts and vulnerability were also presented by Sen Li, Oxford University. The workshop ended with detailed discussions around the various technical and content aspects of the case study, local climate change and related development policies, and future steps for the IMPRESSIONS project.
Amongst others, the workshop in the city of Veszprém included Mr. László Imre, the Clerk of Veszprém County, the county's highest level administrative body (Hungary counts 19 counties), who expressed his interest in collaborating with the project. At the meeting he noted that they are in the process of preparing long-term county-level development plans and would welcome the opportunity to take perspectives and findings from the IMPRESSIONS project into account.
Representatives of the Municipality of Szekszárd also expressed their interest in incorporating findings of the IMPRESSIONS project into their agenda, as all topic areas are vital to the sustainable development of the region. Moreover the workshop was followed by a short field trip in the surroundings of the city with the aim to offer an insight into the local set-ups to the IMPRESSIONS team.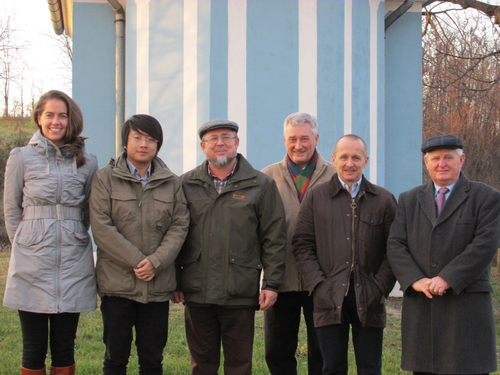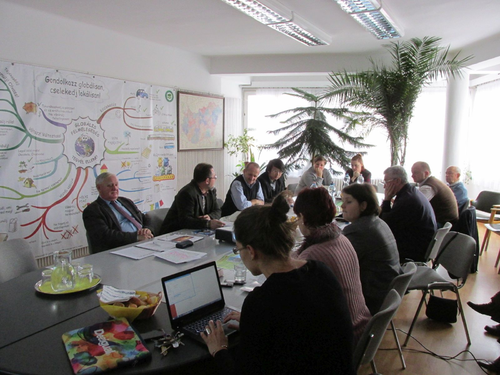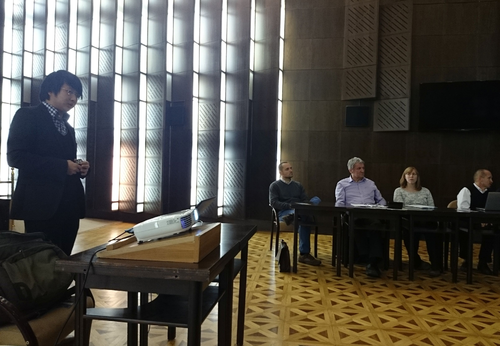 Large image: Participants at the workshop in Szekszárd; Small left: Discussions in Szekszárd; Small right: Presenting IMPRESSIONS in Veszprém
As a result of the interest and enthusiasm of partners both in Szekszárd and Veszprém, the event achieved good coverage in the media, including a short report on a local TV channel, a radio interview, and news featured online and in print editions, and environmental portals.
19.12.2014
The ACES (A Community on Ecosystem Services) 2014 conference linking science, practice and decision-making took place from 8-12 December 2014 in Washington DC. There were over 500 participants at ACES 2014 from over 30 nations, including leaders from all levels of the US government, NGOs, academia, and the private sector. The conference extended over five days and included workshops, plenary and parallel sessions, town halls, and posters. Session topics included the impacts of climate change on terrestrial and freshwater ecosystems and their services, biophysical science and the production of ecosystem services, the interrelationship between human well-being and ecosystem services, monetary and non-monetary valuation techniques, and the role of traditional ecological knowledge.
IMPRESSIONS Coordinator (Paula Harrison) participated in the plenary panel on "Climate Change and Ecosystem Services" and presented a paper on "Ecosystem service provision in a changing Europe: Adapting to the impacts of climate and socio-economic change". Mark Rounsevell (WP3 co-leader) also attended the conference presenting a paper on "Quantifying the uncertainties within a cross-sectoral, integrated assessment of the impact of climate change on ecosystem services in Europe".
The conference provided a venue for synthesizing the research, methods, tools, policies and cultural values needed to more routinely and effectively incorporate ecosystem services and climate change adaptation into decision-making. There were many opportunities to share advances in science and practice, and to continue to build the ecosystem service community and better link it with the climate change impacts and adaptation community.
08.12.2014
Climate change is global - but affects people locally. An EU-funded project is giving Mediterranean businesses and local governments the information they need to plan ahead by taking the impact of local climate change into account. The project is also helping to build a Europe-wide climate information service.
The Mediterranean area is particularly sensitive and vulnerable to climate change. The Intergovernmental Panel on Climate Change predicts that the region will experience rising sea levels, an increasing number of extreme weather events – including storms and drought – and more frequent wild fires, affecting society, locals and visitors alike.
Local businesses and policymakers need accurate, tailored information to plan for these events so they can adapt to the expected impacts. The EU-funded CLIM-RUN project developed methods to improve the details and the reliability of climate information for the Mediterranean area and to communicate it in an effective way to local users.
CLIM-RUN designed its method to support a future World Meteorological Organisation (WMO) climate services network designed for the entire planet.
The project team followed the guidelines of the Global Framework for Climate Services established by the WMO and adapted climate change models to needs identified by local businesses and policymakers. Users then access the modelling results via CLIM-RUN's web portal, which relates the models' results to their specific industries and regions.
To help users benefit as much as possible from the climate service, the team also developed information sheets explaining how they produced their predictions and how to interpret the CLIM-RUN data.
More infromaton is available in the original feature article posted on teh DG Reaseach and Innovation website.
27.11.2014
A new report exploring the impact of climate change in Latin America and the Caribbean, the Middle East and North Africa, and Eastern Europe and Central Asia and finds that warming of close to 1.5°C above pre-industrial times is already locked into the Earth's atmospheric system by past and predicted greenhouse gas emissions. Without concerted action to reduce emissions, the planet is on pace for 2°C warming by mid-century and 4°C or more by the time today's teenagers are in their 80s.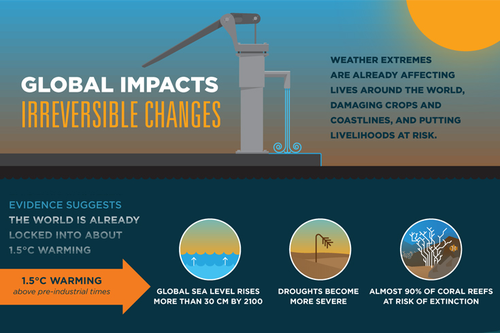 The report warns that as temperatures rise, heat extremes on par with the heat waves in the United States in 2012 and Russia in 2010 will become more common. Melting permafrost will release methane, a powerful greenhouse gas that will drive more warming in a dangerous feedback loop. Forests, including the Amazon, are also at risk. A world even 1.5°C will mean more severe droughts and global sea level rise, increasing the risk of damage from storm surges and crop loss and raising the cost of adaptation for millions of people.
Turn Down the Heat: Confronting the New Climate Normal is the third in a series of reports commissioned by the World Bank Group from the Potsdam Institute for Climate Impact Research and Climate Analytics. The first report looked at risks globally if the world were to warm by 4°C. The second report focused on three regions – Africa, South Asia, and South East Asia – and the risks to food security, water security, and low-lying cities exposed to dangerous sea level rise and vulnerability to storms.
20.11.2014
The three projects IMPRESSIONS, HELIX and RISES-AM, co-funded by FP7 of the European Union, will organise the 3rd European Climate Change Adaptation Conference (ECCA) in 2017. Expressions of interest (EOI) for hosting the 3rd ECCA in 2017 are invited. EOIs should be 2 page maximum and describe:
· why the conference should be located in the suggested location, in particular referring to any relevant activities related to adaptation to climate change,
· the potential conference venue,
· the support that could be offered, and
· the organisations that support the EOI and would form part of the local organising team.
Proposals will be evaluated and selected by a steering group representing the three FP7 projects and applicants will be notified by 31 January 2015 about the outcome. Successful EOIs will be expected to submit full proposals by 31 March 2015. A decision on the final location for ECCA 2017 will be made by 30 April 2015, so that it can be announced at the ECCA 2015 conference.
19.11.2014
For the first time, a composite map of the world's ecosystem assets has been produced, covering both marine and terrestrial realms. A report for the UNEP Division of Early Warning and Assessment by UNEP-WCMC presents global maps of assets such as biodiversity, freshwater resources and soil quality.

Natural capital is fundamental to human well-being. According to the Convention on Biological Diversity, at least 40 per cent of the world's economy and 80 per cent of the needs of the poor are derived from biological resources. We are now facing a problem where natural capital has been harvested and degraded at a rate that threatens to undermine our well-being and future economic growth.

In their latest report UNEP-WCMC have combined information about key ecosystem assets into global maps covering terrestrial and marine realms. The assets included are freshwater resources, soil quality, organic carbon, terrestrial and marine biodiversity, and global fish catch (as a proxy for marine fish stocks). The report builds on a considerable body of work in the fields of natural capital accounting and the mapping of ecosystem services.

To read more and download the full report, please follow the link: http://www.unep-wcmc.org/news/towards-a-global-map-of-natural-capital
17.11.2014
How much can we really predict about the impact of climate change on groups of animals, plants, and natural habitats? DG Research and Innovation tells us a success story of how the EU-funded Ecochange project turned to fossil records to investigate how species respond to even minor changes. Scientists can use this research to design ways to protect biodiversity from climate change.
Understanding the scale of the threat from climate change is crucial to being able to create conditions for the broadest possible range of biodiversity to survive. Over the last decade or so, scientists have developed general models to predict the impact on plants, animals and habitats. But the findings have been difficult to validate, and their lack of precision means that the risks and rates of change may have been exaggerated.
The Ecochange project, funded by the European Union under a Marie Curie Fellowship and coordinated by Oxford University, UK, started out with two objectives: to investigate whether palaeoecological data from ancient fossil remains can increase our knowledge of current climate change impacts, and to study specific environments and how they can protect species from hostile climate conditions.
Ecochange used so-called 'Species Distribution Models' (SDMs), which link information about the occurrence of species with general environmental data. But to make the models more sensitive to small-scale variations, the researchers added a high-resolution study of the physical characteristics of landscapes.
For example, geologic and geomorphic conditions were found to be just as important as temperatures in regulating the growth of mountain forests, which could be crucial refuges for small wildlife populations. The project set out to identify all the variable factors influencing the impact of past, current and future climate change.
Lessons from the past
To validate the models, and understand the relationship between animals and their environment, the scientists looked to the past. The 'Quaternary' fossil record covers the last two million years. Traces of shells, teeth, pollen and seeds reconstruct vanished ecosystems and give clues to how animals and plants lived and died.
"Including species-occurrence data in periods other than the present allows researchers to expand their understanding of the responses that species have had in periods of past climatic changes," explains Marc Macias Fauria, Ecochange's Marie Curie Fellow.
This approach was applied to a number of 'taxa' (populations of organisms that together form a unit) in woody areas, helping to predict how they might react to future climate and environmental change.
"This study demonstrated that, when carefully selected, palaeoecological data can be used in conjunction with SDMs in order to track and better understand species' responses to changes in climate even in relatively short time periods," notes Macias Fauria.
The project has generated a number of spin-offs. The scientists have launched new collaborative studies with Canada, Finland, Russia, Sweden, Norway and UK, creating an expanded, EU-based research network.
"We are examining new questions that deepen the topic and promise high-impact science in the coming years," says Macias Fauria. This includes research into the effect of reindeer grazing on tundra vegetation, and how this vegetation reacts to temperature change.
Palaeoecological records are emerging as an important resource for conservation and land management policies, as well as the development of strategies for conservation and mitigating climate change. The ideas from the project now form part of an M.Sc. course on SDMs at Oxford University, which is highly appreciated by students.
"I have a PhD student, Henrik Hannemann, with a background in ecology and economics who is using this approach to directly tackle conservation strategies in Europe," says Macias Fauria.
11.11.2014
The EU-funded AMPERE project has analysed various projected scenarios on climate change and its effects on society and found that taking action sooner rather than later reduces the costs of mitigation.
Forecast models on the effects of climate change on society and the environment are complex and can yield different results. EU-funded researchers have analysed these scenarios and found overwhelming evidence that taking action sooner rather than later reduces the costs of mitigation. Their research aims to help policymakers make informed decisions to mitigate climate change.
Energy-economy model assessments can inform policy discussions with insights into the costs of decisive climate change mitigation as well as the costs of delaying action. The EU-funded AMPERE project, which ended in January 2014, studied a diverse range of scenarios and was able to demonstrate that taking action sooner rather than later will reduce the costs of climate change mitigation.
Mitigation actions are designed to limit the magnitude of long-term climate change, and generally involve reductions in emissions of greenhouse gases. Mitigation strategies include switching to low-carbon energy sources, such as renewable and nuclear energy, and expanding forests to remove greater amounts of carbon dioxide from the atmosphere. The project's findings are important for the EU, says project coordinator Elmar Kriegler of the Potsdam Institute for Climate Impact Studies, Germany.
"As European leaders discuss the EU's 2030 climate policy framework and prepare for the crucial Paris COP 21 (United Nations Climate Change Conference) in 2015, the results of AMPERE are expected to provide timely insights," says Kriegler.
He adds: "The results from several models indicate that the EU could afford unilateral ambitious climate action and that overall carbon leakage would likely be small. If other major emitters reciprocate, a strong signal by the EU can effectively limit global warming. Europe can signal the will for strong emission reductions at manageable economic costs. However, European decarbonisation requires strong 2030 targets and holds challenges as well as opportunities for Europe."
The detailed AMPERE findings have been published in a 2014 special issue of the international journal 'Technological Forecasting and Social Change'.
Contribution of EU-funded research to IPCC's 5th Assessment Report - Memo 31/10/2014
Read the full article here.
11.11.2014
An EU-funded project has developed cross-border research clusters, designed to help European countries combine their knowledge and resources to tap funding opportunities and better tackle climate change.
Together with CIRCLE (which ran from 2004 until 2009), the EU-funded CIRCLE-2 project, which ended in April 2014, completes a decade of bringing together research and funding institutions to better target and more effectively allocate resources to cope with climate change.
The importance of this project should not be underestimated. Adaptation – anticipating the adverse effects of climate change and taking appropriate action such as using scarce water resources more efficiently and building better flood defences – could save Europe billions in damage repairs, not to mention lives. Resources however must be properly targeted if adaptation strategies are to be effective.
"This project was about coordinating research and funding institutions," explains CIRCLE-2 coordinator Tiago Capela Lourenço from the University of Lisbon, Portugal. "We designed transnational research agendas, and from these developed sub-networks made up of institutions in, for example, the Nordic, Mediterranean, Atlantic and mountainous regions of Europe."
Read the full article here.
17.10.2014
On Tuesday 30 September 2014, the European Parliament Intergroup on "Climate Change, Biodiversity and Sustainable Development", in collaboration with the European Commission and the International Union for Conservation of Nature (IUCN), organised a full day conference entitled: "Nature-Based Solutions: Innovation potential for Smart, Sustainable and Inclusive Growth in Europe."
Bringing together 140 participants including representatives from the European Institutions, local and regional authorities, research institutes, NGOs and International organisations, as well as private sector representatives, this conference aimed at promoting the solutions that nature can offer in tackling major challenges, such as climate change and natural disasters, in ensuring food security to an increasing population, in protecting the health of European citizens, and the conservation of biodiversity in the EU and at the global level.
The speakers, panellists and participants in the audience all agreed that using nature to tackle some of the most pressing challenges of our time can be cost-effective, can help safeguard the environment and halt biodiversity loss, and can provide numerous economic and social benefits by creating jobs and growth and by stimulating innovation.
Read more and find results from the conference
here
.
15.10.2014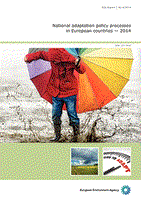 The report draws on the results of a self‑assessment survey conducted on national adaptation policy processes in Europe. In May 2013, a survey was sent out by the European Environment Agency (EEA) to authorities in countries responsible for coordinating adaptation at national level (the 32 EEA member countries, and in Croatia in July 2013 as a new EU Member State and EEA member country). Thirty EEA member countries provided their responses on a voluntary basis. Thanks to the high response rate and the wealth of information provided by these European countries, the report presents a unique collection of information and the largest and most comprehensive analysis of national adaptation policy processes in Europe, to date.
The full report is available on the EEA website: http://www.eea.europa.eu/publications/national-adaptation-policy-processes
10.10.2014
Only recently, the UN Climate Summit came together in New York to further address the necessary measures to protect the Earth from a dramatic climate change. It has long been recognised that an increase of the average temperature will cause rising oceans and thus flooded landscapes. Particularly, regions close to the coasts are endangered. While it is well known that climate change has increased average temperatures, it is less clear how temperature variability has altered with climate change.
Postdoctoral fellow George Wang, from Detlef Weigel's Department for Molecular Biology at the Max Planck Institute for Developmental Biology, has now examined this issue in more depth.
He realized that existing climate measures did not provide enough information to predict the life history responses, such as hatching, hibernation, or flowering of organisms. Together with his partner Michael Dillon, an Assistant Professor in the Department of Zoology and Physiology, University of Wyoming, USA, he started to analyse climate conditions since records began to be kept.
"We describe, for the first time, changes in temperature variability across the globe. We've had a long discussion about changes in the mean temperature. It has been ongoing for over 30 years," says George Wang. "It's very clear mean temperatures have shifted across the globe. It's less clear if the variation in temperature has changed."
For example, the variability in temperature could potentially mean bugs survive for a longer period in non-tropical regions. The result could be increased crop damage from pest insects or spread of diseases, such as malaria transmitted by mosquitoes.
In addition, plants in temperate regions are adapted to use temperature to tell the season. This is how they know when to produce flowers and fruits. As daily temperature cycles become more extreme, it becomes harder for plants to behave appropriately to the season. Therefore, plants might produce flowers too early or too late, and so there might be some years where certain fruits never appear.
Wang is first author of a paper, titled "Recent Geographic Convergence in Diurnal and Annual Temperature Cycling Flattens Global Thermal Profiles," that was published last Sunday (Sept. 28) in the online edition of Nature Climate Change. Dillon is the paper's co-writer. The monthly journal is dedicated to publishing the most significant and cutting-edge research on the science of climate change, its impacts and wider implications for the economy, society and policy.
Wang and Dillon first estimated global spacial variation in the mean temperature and in temperature cycling by analysing more than 1 billion temperature measurements from 7,906 weather stations that sampled from the period of Jan. 1, 1926, through Dec. 31, 2009. Analysis of monthly and yearly averages of daily temperature extremes reveals that daily and annual minimum and maximum temperatures have increased across the world since 1950. The scientists then estimated global changes in the magnitudes of diurnal and annual temperature cycles from 1975-2013.
The research was "very computationally intensive", as Michael Dillon points out. The researchers had to use computer clusters on two continents, with the majority of the work performed on the cluster at the MPI for Developmental Biology. They also used a new mathematical technique to describe how temperature changes from day to night, and winter to summer, thus characterizing the variability of temperature over the globe.
According to this, the changes have been most dramatic for places closest to the poles and far from oceans. "In these places, warmer winters -- decreasing the difference between summer and winter -- and hotter days -- increasing the difference between day and night -- mean that the range of temperatures, which organisms experience over a few days, is closer to the range of temperatures they experience over an entire year. These patterns are strongest in Canada and Russia, but occur even in Germany," explains Wang. "For example, in Wiesbaden, in 1992, the average difference between day and night was 1.2 degrees, while the average difference between summer and winter was 24.8 degrees. In 2012, the day/night cycle was 5.2 degrees, while the summer/winter cycle was 18.9, so the daily temperature variability is now much more similar to the yearly variability. Compare this to Las Palmas in the Canary Islands, where the day/night difference is about 4.3 degrees and the summer/winter difference is about 6.7 -- it has not changed very much."
The range of diurnal temperature cycling (DTC), meaning the change in temperature from the daytime high to nighttime low, was lowest at the poles, intermediate at the tropics and was relatively small close to large bodies of water and at lower elevations, according to the study. The range of annual temperature cycling (ATC), meaning temperatures for any given location will go through a regular cycle on an annual basis, was lowest at the tropics and increased toward the poles.
"For these temperature zones that we historically think of as having lower daily variations relative to the annual variations in temperatures, what we found in these zones is that the ATC has not changed much in the last 30 to 40 years," Michael Dillon explains. "But, the DTC has gone up considerably. If the annual is constant and daily temperatures increase, areas outside the tropics will become more tropical. This idea of convergence could be a really important thing."
The findings show that no place is safe from climate change. "Most people are rightly concerned about sea level rise, but feel that this will not affect them if they don't live next to the ocean. We find that places far from the oceans will have be biggest changes in daily and seasonal temperature variability, because they are far away from the buffering effects of oceans", says Wang. Therefore, there would be no places immune from effects of climate change, and this would have consequences on crops, parasites, and disease.
Original Publication:
Wang, G.; Dillon, Michael E.; Recent geographic convergence in diurnal and annual temperature cycling flattens global thermal profiles; Nature Climate Change; Published online 28th September 2014; doi:10.1038/nclimate2378 http://www.nature.com/nclimate/journal/vaop/ncurrent/full/nclimate2378.html
10.10.2014
The latest instalment of the Aichi Targets Passport is available now to download as an app from iTunes and Google Play.
As the flagship publication of the Biodiversity Indicators Partnership (BIP), the Aichi Targets Passport provides annual updates on the global biodiversity indicators that monitor progress towards the Strategic Plan for Biodiversity 2011-2020 and the underlying Aichi Biodiversity Targets.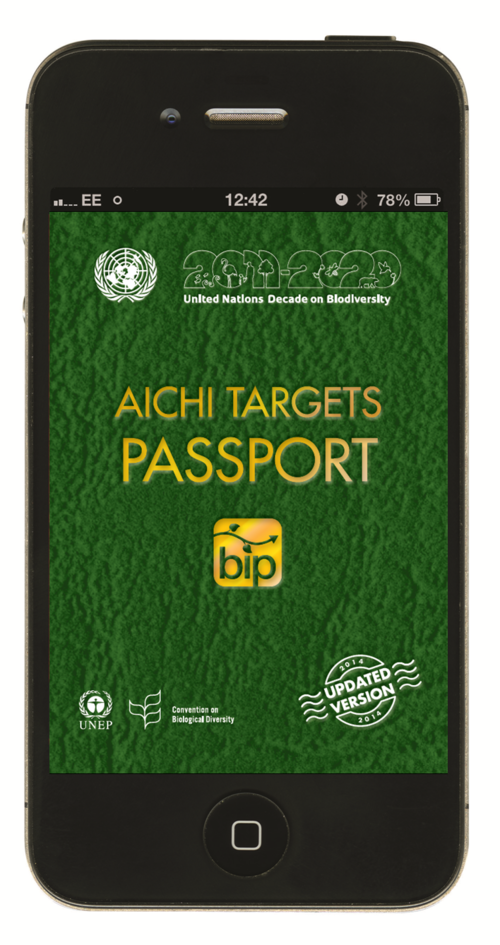 The suite of indicators presented in the Aichi Targets Passport was brought together by the BIP. They are as far as possible, global in their coverage, scientifically valid and peer reviewed, and relevant to the Aichi Biodiversity Targets. In particular, indicators are presented to highlight the progress that has been made towards each target so far and what baselines exist from which future progress can be monitored.
The Aichi Targets Passport was first released as a "proof of concept" in October 2012 and included one or two indicators for each Aichi Biodiversity Target. Since the release of the Beta version, the BIP Partnership has continued working to enhance and increase the number of global indicators available for each of the targets. In its app format, the information contained in the Aichi Targets Passport is at your fingertips at any time.
This latest edition of the Aichi Targets Passport has been released in tandem with the fourth edition of the Convention on Biological Diversity's Global Biodiversity Outlook (GBO-4). In addition to information on which of the Aichi Biodiversity Targets is on-course to completion and which targets require more action, GBO-4 presents options that could halt further biodiversity loss.
The indicators presented in the Aichi Targets Passport are those contained in CBD decision XI/3 with some additional indicators that have been, or are being, developed to fill gaps.
To download the Aichi Targets Passport visit: http://www.bipindicators.net/resource/aichipassport
iTunes: http://goo.gl/dOWujN
Google Play: http://goo.gl/BN6AfG
09.10.2014
The modellers in the IMPRESSIONS project met for a second time in Pisa, Italy from 30 September to 1 October 2014. Computer models are being used in IMPRESSIONS to develop new knowledge and evidence on the impacts of, and adaptation to, high-end scenarios (HES) on key sectors and resources for the globe, Europe and three regional case studies (Scotland, Hungary and Iberia).
Simulated changes in a range of urban, health, agricultural, forestry, water, coastal, biodiversity, tourism, land use and economic indicators over time under high-end climate and socio-economic scenarios will be used to help stakeholders and decision-makers develop long-term adaptation strategies for coping with HES.
The purpose of the meeting was to: (i) finalise the conceptual framework which links the modelling activities to work undertaken in the rest of the project; (ii) define a model linkages framework which highlights information that is passed between different models covering various sectors and scales to ensure an integrated approach; and (iii) develop model application protocols for consistent testing and use of models in sensitivity analysis, scenario analysis, uncertainty analysis and inter-model comparison exercises.
In addition, agreements were reached on a core set of integrated Representative Concentration Pathways (RCP) and Shared Socio-economic Pathways (SSP) scenarios, a consistent climate and socio-economic baseline, and future timeslices up to 2100 for assessing the consequences of high-end climate change.
05.09.2014
The latest issue of Science for Environment Policy features a recent study, funded by the EU enviroGRIDS project, which assesses the vulnerability of agricultural water resources to climate change in the Black Sea catchment. The original research was pubsished in the journal Environmental Science & Policy.
The impacts of climate change in the Black Sea region are likely to affect agriculture in Ukraine, Romania, Moldova, Hungary, Bulgaria and Turkey, new research suggests. The number of days of plant growth was reduced in these countries as a result of reduced precipitation, increased temperatures and low capacity for irrigation to supplement water needs. A strong legal framework is necessary to deal with conflicting future demands for water, say the researchers.
Climate change is expected to affect water supplies in the Black Sea region, with rising temperatures and reduced rain and snowfall potentially leading to water shortages. Agriculture accounts for most of this region's water consumption and will be particularly affected by such impacts.
The researchers used the Driver – Pressure – State – Impact – Response (DPSIR) framework to link the pressures, such as a reduction in rainfall, to potential actions that can be taken to mitigate the impacts. They combined this with a measure of vulnerability that takes into account the sensitivity of the agricultural system (e.g. plant types and resilience to stress) and its capacity to adapt.
They based their assessment on three climate change scenarios: (i) an increase in daily temperature of 3°C; (ii) a decrease in daily precipitation of 30%; (iii) a combined temperature increase and precipitation decrease, of 3% and 30% respectively. All scenarios were relative to baseline conditions during 1996 to 2006. Data came from output of the Soil and Water Assessment Tool developed for the whole of the Black Sea catchment.
Based on the number of days that plants can grow in a year, which is affected by daily temperature and water availability, the researchers found that the temperature increase was beneficial for plant growth across the region, as the number of days too cold for growth fell. In contrast, less precipitation reduced the number of days of plant growth.
Combined temperature increases and precipitation decreases affected plant growth in different regions of the catchment differently. Where the impact of reduced precipitation outweighed the impact of temperature increases, the overall impact on plant growth was negative. Moreover, the capacity to adapt to these changes by using irrigation was generally reduced across the catchment area, compared with the baseline conditions. The researchers considered that irrigation would only be possible if there was sufficient water to ensure that withdrawals would not jeopardise aquatic ecosystems, which were to be given priority over irrigation.
Switzerland, Italy, Albania, Montenegro, Slovenia and Austria were most likely to benefit from climate change. These mountainous countries are likely to have more higher-temperature days and will also be least affected by a reduced irrigation potential (i.e. the number of days per year when sufficient water is available). Ukraine, Romania, Moldova, Hungary, Bulgaria and particularly Turkey are likely to be more vulnerable to the impacts of climate change, mainly as a result of more dry days and reduced irrigation potential.
Reduced water availability is likely to lead to higher demand for irrigated water, competing with the water needs of a healthy aquatic environment. To meet the challenges of managing shared water resources in the face of competing demand, the study's authors emphasise the need for a strong legal framework that covers the whole of the Black Sea catchment and focuses on the role played by irrigation in agriculture.
Original Source:
Bär, R., Rouholahnedjad, E., Rahman, K. et al. (2014). Climate change and agricultural water resources: A vulnerability assessment of the Black Sea catchment. Environmental Science & Policy. DOI:10.1016/j.envsci.2014.04.008.