29.02.2016
Trends in current greenhouse gas emissions suggest that meeting the COP21 Paris Agreement to hold increases in the global average temperature to well below 2°C and to pursue efforts to limit the temperature increase to 1.5°C above pre-industrial levels will be extremely difficult. Furthermore, the societal implications of the mitigation effort required to achieve 1.5oC will be large, potentially leading to massive high-end socio-economic change which could outweigh many effects of climate change. The IMPRESSIONS project is advancing understanding of the implications of different combinations of high-end climate and socio-economic change. Recently, stakeholders from across Europe met to discuss strategies for adaptation and mitigation under uncertain high-end futures.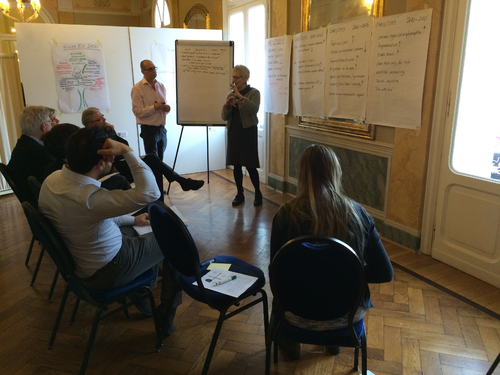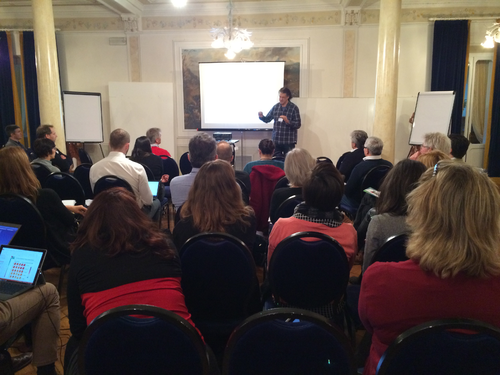 Discussions during the European Case Study; Credit: S. Haenen
Experts from across policy and practise were brought together with the IMPRESSIONS scientists to discuss (i) the types of changes in social and economic conditions we may face in Europe, in combination with climate changes, in the future; (ii) how such changes may affect Europe in a multitude of aspects including agriculture, forestry, biodiversity, tourism, health, water supply and more; and (iii) how current policies might perform under such conditions.
These discussions triggered the identification of possible responses to avoid the risks posed by, and to take advantage of the opportunities arising from, these different climate and socio-economic futures. The responses were grouped into similar types of actions and developed into strategies for adapting to the projected changes.
A very wide variety of different responses and strategies were generated by the stakeholders within the workshop. These will be further analysed by the project team to create adaptation and mitigation pathways. Synergies between the different strategies will be identified and elements of the pathways will be modelled to assess their ability to move society towards a more desirable future. These results will be presented to the stakeholders at a third workshop in February 2017 to further refine policy and practice recommendations for dealing with high-end climate and socio-economic change.
29.01.2016
Every year, IMPRESSIONS partners get together to discuss their progress and future steps towards achieving the project's long-term goals. This year the IMPRESSIONS General Assembly took place in Florence, Italy, on 19-21 January 2016 to mark the start of a rather active period ahead.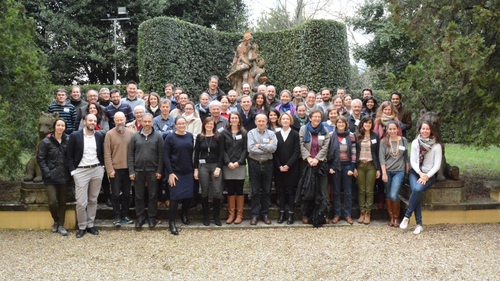 Group photo from the 3rd General Assembly meeting; Credit: Pensoft
IMPRESSIONS has just entered into its third year and with the research activities now taking shape and picking up speed, there are many exciting results and events to come. A second set of case-study-based stakeholder workshops, following the success of the first round, are planned throughout the year to co-develop adaptation and mitigation actions for tackling the impacts and vulnerabilities highlighted by our scenario and modelling work. This ensures that IMPRESSIONS results take account of complex real-life situations and the specific decision-making context for each case study.
Meanwhile, many other activities continue at full speed such as the analysis of the user needs survey and the initial scenario and modelling results. Methods and processes are also under development to ensure integration of the project results both across topics and case study scales, and their representation in user-friendly formats within the IMPRESSIONS Information Hub.
Having entered its third year the project is now planning several publications, including a policy booklet on high-end climate change and a Journal Special Issue covering the wide range of topics covered in IMPRESSIONS (decision-making under uncertainty; stakeholder engagement; climate and socio-economic scenarios; climate change impacts, adaptation and vulnerability modelling; indirect effects; economic implications; and transformative solutions).
In addition, together with our sister projects HELIX and RISES-AM, IMPRESSIONS is in charge of organizing the 3rd European Climate Change Adaptation (ECCA) conference that will take place on 6-8 June 2017 in Glasgow, UK.
31.12.2015
IMPRESSIONS wishes everyone health, joy and success for the New Year!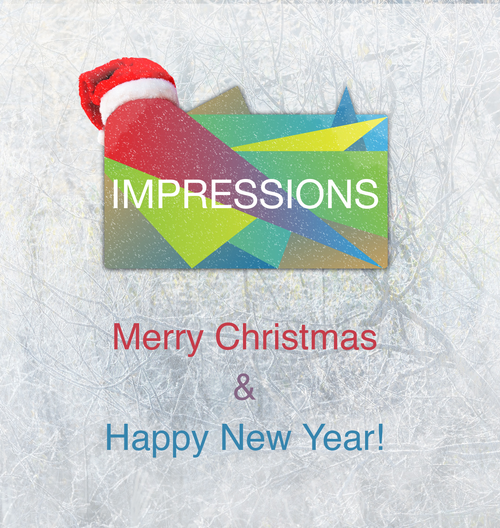 15.12.2015
A great deal has happened since world leaders gave their opening statements during the first day of the UN Climate Change Conference 2015, COP21 climate change talks. In the space between 30 Nov and 11 Dec 2015, the world witnessed heated talks and passionate pleas culminating into a historic international climate agreement signed in Paris on Saturday 12 Dec 2015.
The agreement recognises the potential threat of extreme climate change (above 2 degrees Celsius) and is designed to reduce greenhouse gas emissions and limit the average rise in global temperatures to 2 degrees Celsius above pre-industrial times.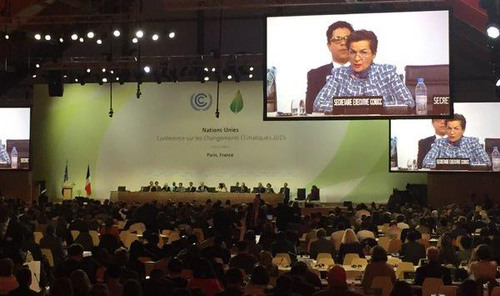 Credit: UN Climate Change Conference 2015
The Paris Agreement and the outcomes of COP21 cover all the crucial areas identified as essential for a landmark conclusion: mitigation – reducing emissions fast enough to achieve the temperature goal; a transparency system and global stock-take – accounting for climate action; adaptation – strengthening ability of countries to deal with climate impacts; loss and damage – strengthening ability to recover from climate impacts; and support – including finance, for nations to build clean, resilient futures.
"History will remember this day… The Paris agreement on climate change is a monumental success for the planet and its people." said UN Secretary-General Ban Ki-moon.
IMPRESSIONS at the event
A number of side events were also included in the COP21 programme among which the Rio Conventions Pavilion (RCP) organized by the Secretariats of the Rio Conventions and the Global Environment Facility.
Each day at the RCP organizations provided a focus on a different theme relevant to climate change, sustainable land management and biodiversity in the context of sustainable development. IMPRESSIONS partner Dr. Mark Rounsevell took part in the RIO pavilion session on 10 December focused on "Synergies and trade-offs in land-based climate mitigation and biodiversity."
There is not enough land in the world to feed everyone what is considered a normal USA diet. Prof M. Rounsevell pic.twitter.com/4YXfF8GOG9

— Rio Pavilion (@RioPavilion) December 10, 2015
Other themes included: exploring land's role in mitigating climate change; the role of biodiversity in combating climate change; recognising the successes of indigenous peoples and local communities' initiatives in building climate resilience; the impact of climate change on our oceans; the role of business in addressing climate change; the potential of forests in climate change mitigation; climate-informed development; the benefits of gender-sensitive approaches in adaptation and mitigation efforts.
12.12.2015
The 3rd IMPRESSIONS Modellers Meeting took place on 2 & 3 December 2015 in Copenhagen, Denmark. The meeting brought together the IMPRESSIONS modelling team to discuss future model development and application to the high-end climate change scenarios.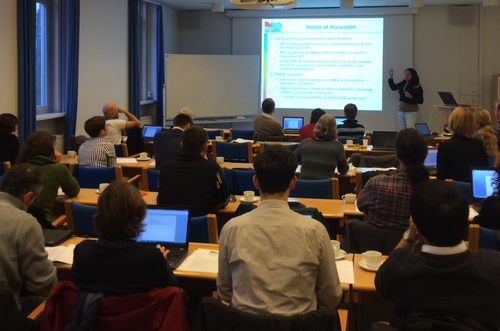 Discussions during the 3rd modellers meeting; Credit: George Cojocaru
The purpose of the meeting was to discuss progress in modelling activities within the five IMPRESSIONS case studies (global, European, Hungary, Iberia and Scotland). A variety of different types of models are being utilised in the case studies, including top-down approaches such as global and regional integrated assessment models, and process-based models, and bottom-up approaches such as agent-based models and mixed qualitative-quantitative participatory approaches. All the modelling work has a strong focus on improving the representation of cross-sectoral interactions and the representation of the adaptation process by taking account of constraints, triggers, time lags and consequences.
The meeting consisted of various plenary session to discuss common themes such as the application of the models to the climate (RCP) and socio-economic (SSP) scenarios, and breakout groups to discuss (i) future workplans for modelling coping/adaptive capacity, vulnerability, adaptation and mitigation within each case study; and (ii) which model indicators to show at the second set of stakeholder workshops that will take place during 2016.
03.12.2015
A new technical report published today by the European Environmental Agency (EEA) presents a synthesis of the information on climate change mitigation policies and measures (PaMs) reported in 2015 by Member States under the European UnionMonitoring Mechanism Regulation. The report aims to provide an overview of the main characteristics of the PaMs implemented, adopted or planned by Member States, such as their objective, type, targeted sectors, entities responsible for their implementation, etc.
The report is based on the submissions, by 25 June 2015, of 20 Member States. These reports were subject to quality control (QC) by the European Topic Centre for Air Pollution and Climate Change Mitigation (ETC/ACM). Nineteen Member States subsequently revised and resubmitted their reports. For the eight Member States that did not submit a report on their climate PaMs before 25 June 2015 or that did not use the online questionnaire, the most recent submissions on PaMs before 2015 (i.e. from 2013 or 2014) were used.
Find the report available to download here.
27.11.2015
Building and managing a well-planned network of natural areas might provide an effective and, in many cases, cheaper solution for coping with natural disasters such as floods or landslides, the
European Environmental Agency
(EEA) reports.
A
new report
published on 25/11/2015 by the EEA explores how 'green infrastructure' can help Europe prepare for and reduce the loss from weather- and climate-related hazards.
Weather- and climate-related hazards, including extreme precipitation, floods, wet mass movement (e.g. avalanches and landslides) and storm surges are among the costliest and deadliest natural hazards in Europe and globally. The EEA's new report 'Exploring nature-based solutions: the role of green infrastructure in mitigating the impacts of weather- and climate change-related natural hazards' focuses on certain types of extreme events and hazards in Europe that are likely to be amplified by ongoing climate change.
Read more in the official news item.
27.11.2015
A recent article in the Horizon Magazine raises concerns about forecasts suggesting the possibility of catastropihic climate warming. The level of greenhouse gas emissions being produced around the world means that, as things stand, temperatures are likely to rise by around 4.5 degrees by 2100, unless significant reductions are agreed, sophisticated climate simulations show.
'Emissions at the moment track closely the worst scenarios used for estimating future climate change,' said Professor Colin Jones from the University of Leeds, who is based at the Met Office, UK. 'If we look at actual emissions over the past 15 years and just plot them as a line, they generally follow the worst-case scenario… in our modelling studies.'
'Those estimates, plus or minus 10 % to 20 %, I would be very confident in,' said Prof. Jones, coordinator of the CRESCENDO project, which is working to better understand how climate change will affect the way that the oceans and vegetation absorb CO2 from the atmosphere by the end of the century.It means that, unless emissions are seriously curbed, we're in line for a global mean temperature increase of around 4.5 degrees Celsius by 2100, compared with average temperatures from the pre-industrial era.
Even in the next five years, temperatures are likely to be between 0.18 and 0.46 degrees Celsius higher than the average from 1981 to 2010, and it's going to make a noticeable difference around areas such as the Mediterranean.
'In 10 years' time, it will be even worse than it is now, so that's the kind of problem we are addressing, (that's) the urgency of climate change,' said Professor Francisco Doblas-Reyes from the Catalan Institute of Climate Sciences, Spain.
Read the full artilcle here.
25.11.2015
A new UK National Trust report 'Forecast Changeable' illustrates new ways to manage properties has had to be explored in the face of a changing climate. Some have become damaged by rainwater and flooding and gardens are increasingly affected by drought and disease.
The effects of these changes are not confined to one region; they are in evidence across the UK. For example, at Nymans in West Sussex, drought issues meant water storage capacity had to be doubled to 80,000 litres. Increased demand necessitated that this be raised to 150,000 litres
The Plant Conservation Centre, which is responsible for grafting and propagating important collections for our gardens, has become a victim of warmer winters. The period of time available for grafting has been cut in half, making the procedure only possible in the cooler periods from January to March. A second facility was opened to accommodate the climatic change.
Read more about the results here.
23.11.2015
Droughts, floods, changing agriculture and rising sea levels. The list of climate change impacts goes on, the new issue of the Horizon Magazine is out and it is warning us that regional rivalry and climate migration is possible 'within our lifetimes'.
'We have developed scenario narratives for the different futures for Europe which combine plausible changes in socio-economic conditions with projections of changes in climate,' said Dr Paula Harrison, from the University of Oxford, UK, and project leader of IMPRESSIONS, an EU-funded research project which is looking at the impacts of high-end climate change.
'In the worst-case scenario … many countries could struggle to maintain living standards and end up with extremely high levels of inequality,' said Dr Harrison. 'This is a real doom and gloom scenario where there is antagonism between regions and a disintegration of social fabric.' Climate change will affect water resources, agriculture, biodiversity and the global flow of goods and services. Couple this with a growing population, and there could be significant impacts upon Europe's economy and society.
Without significant action, certain regions may also become particularly vulnerable to other social factors, such as the mass movement of people. Normally, migration is driven by famine, economy and war, but droughts, heatwaves and food shortages could cause numbers to increase.
As pressure mounts on resources, migration could also result in other socio-economic ripple effects, such as countries closing their borders, which isn't too hard to imagine in light of Europe's current refugee challenge.
'Climate change could make migration stressors worse, depending upon the socio-economic context that evolves,' said Dr Harrison.
However, it's not all doom and gloom. The project believes there is another possible scenario where societies make a big effort to meet sustainable development goals, limiting the impact of climate change.
The goal of the project is to be able to present these scenarios to policymakers in order to give them a better understanding of the implications of global of the implications of global warming.
Read the full article here.
11.11.2015
In a recent article the BBC reports that global temperatures are set to rise more than one degree above pre-industrial levels according to the UK's Met Office. Figures from January to September this year are already 1.02C above the average between 1850 and 1900.
If temperatures remain as predicted, 2015 will be the first year to breach this key threshold. The world would then be half way towards 2C, the gateway to dangerous warming.
The new data is certain to add urgency to political negotiations in Paris later this month aimed at securing a new global climate treaty.
For researchers, confusion about the true level of temperatures in the 1750s, when the industrial revolution began and fossil fuels became widely used, means that an accurate assessment of the amount the world has warmed since then is very difficult.
Read the full article on the BBC website.
20.10.2015
International scientific conferences that bring together scholars on the same field to share and deepen dialogues and exchanges can be overwhelming and intense. With this Conference Brief, the DRIFT research team offers reflections and messages to take on board for the future steps in research from the International Sustainability Transitions Conference held in Brighton, 25-­28 August 2015.
It is the IST conference again! The annual reunion with transition scholars from all around the world to discuss, debate, share and plan for what makes, what it takes and whatwe know about wider transformative change. Here is a short account from the DRIFT Team: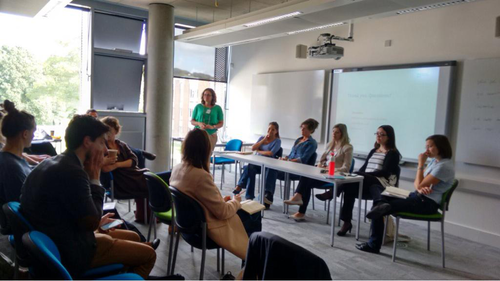 Session Picture: Role of civil society in sustainability transitions.
As DRIFT team, we enter the academic debate from different angles and with a great diversity of conceptual lenses and empirical insights. With the keynotes speeches aiming to inspire discussions and bringing new perspectives to ongoing debates on the wider transformative changes and the way research interacts with them, we came to a diversity of reflections and messages to take home.
As DRIFT research team, we stand critical and sceptical to entrenched and unquestioned territories - be them theoretical or empirical - and with a strong transdisciplinary focus on our research, the messages to take home may signpost possible future research pathways. From our reflections and critical summary notes, we gather six key messages:
Message 1: Towards Theoretical Plurality! As sustainability transitions scholars we already benefit from new theoretical frameworks that go beyond the multi-­level perspective, and consider dynamics, agency and politics as starting points.
Message 2: Look out for stalemates! While the whole field is searching for fast-­pacing dynamics of transformative change, it may be also worth investigating what is not transitioning.
Message 3: Show me the innovation! With a focus on fitting or disruptive innovations for sustainability transitions, the new focus areas should be on the transformative impact rather than the outreach innovations achieve.
Message 4: Transitions and the City! Cities as empirical grounds to go beyond sectoral transitions and look closer at cross-‐sectoral and scale dynamics.
Message 5: Experimenting as the means to instigate sustainability transitions!
Message 6: Check your tools! Methodological issues, methods, concepts and frameworks and how they come together in sustainability transitions' research was a core topic of discussion during the small group sessions of the research agenda. Co-­creation as a mode of engagement and operation!
Read a more detiled outline on the key messages in the DRIFT Conference Brief.
18.10.2015
The first IMPRESSIONS Hungarian Case Study workshop took place on 13 &14 July 2015, in Szekszárd, Hungary. Joined by over 25 participants representing public institutions, civil society and the private sector from Szekszárd and Veszprém, we discussed socio-economic driving forces and developed locally meaningful scenarios to the two case areas. The workshop was very well received by participants and was covered in local and national media. We will continue engaging stakeholders by providing updates, requesting inputs to modeling and by asking for their help with data in the upcoming months so that they stay involved until the second workshop in June 2016. Learn more about the workshop and IMPRESSIONS in the following video report:
Videographer: Dénes Fellegi, BEE Environmental Communication (
www.bee.co.hu
)
Besides stakeholder engagement, work on several thematic models was also continued. Together with the Hungarian Central Statistical Office, we conducted a large-scale survey involving 220 landowners and 21 agricultural enterprises from both Veszprém and Szekszárd with the aim:
to identify factors influencing individual agricultural managers' decision-making on land use and management;
to advance understanding of the implications of recent and future climate change in the agricultural sector;
to assess the prevalence of tick-borne diseases among farm workers.
Results of the survey will help us estimate whether changes in individual agricultural managers' decision-making could foster sustainability of local food production. The results will also contribute to our thematic models, and will help decision-makers take them into account when setting up adaptation-related policies for the sector.
IMPRESSIONS was represented at the Annual Meeting of the Hungarian Society of Hygienists in Eger, Hungary, on 6-8 October 2015, where one of our workshop participants and project partners, Teca Zoltánné Gaál from Szekszárd gave a presentation on the IMPRESSIONS project to a scientific audience.
12.10.2015
Stakeholders are an integral part of the IMPRESSIONS project and continue to contribute positively to the research in the project. On the 22nd September, 17 stakeholders from a wide range of organisations with an interest in land resource management in Scotland participated in a one day workshop with IMPRESSIONS researchers.
The workshop was a great success and provided an opportunity for stakeholders and researchers to co-create knowledge. The day featured facilitated breakout sessions during which stakeholders reviewed and further developed plausible socio-economic storylines of what the future might look like for Scotland.

Video credit: Archie Crofton
This involved linking the CLIMSAVE Scottish scenarios to the new IPCC-related global Shared Socio-economic Pathways (SSP) and downscaled European SSPs developed within IMPRESSIONS. These will be combined with intermediate and high-end climate change scenarios and used to explore potential impacts for Scotland.
Stakeholders also contributed their visions for Scotland in the year 2100 – that is, what they would, in an ideal world, like the country to be like by that point. Discussions were lively and more often than not reached consensus!
The IMPRESSIONS team looks forward to working further with these and other stakeholders during the course of the project to develop adaptation and mitigation pathways for reaching this vision for Scotland. For a video wrap-up of the workshop and more, please visit our YouTube Channel.
12.10.2015
IMPRESSIONS participated in a science-policy event hosted by DG RTD and DG CLIMA on 17 September 2015 at Scotland House Conference Centre in Brussels. The event focused on evidence of what might happen if the international agreement to cut greenhouse gas emissions and limit the expected global warming to 2° is not meet.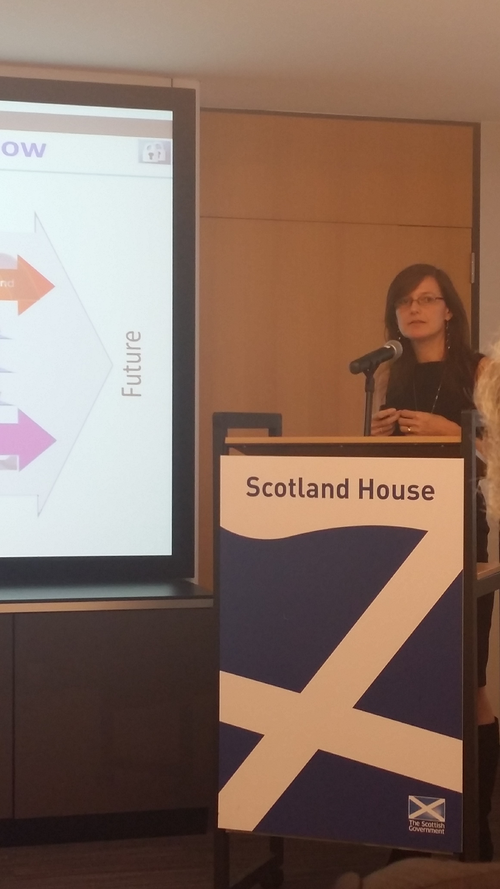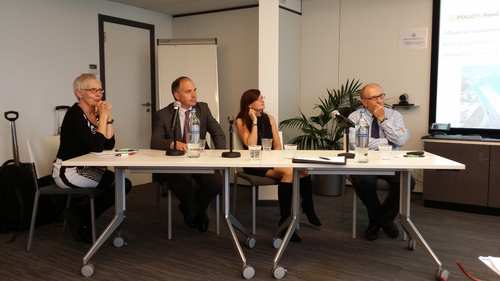 The mid-term findings from three projects (IMPRESSIONS, HELIX and RISES-AM) funded under the Seventh Framework Programme for Research and Technological Development (FP7) to quantify impacts and vulnerabilities for a range of high-end scenarios were presented. DG RTD Head of Unit 'Climate Action and Earth Observation' Andrea Tilche and DG CLIMA Head of Unit 'Adaptation' Beatriz Yordi then framed a discussion in relation to:
What are plausible worlds above 2°C global warming, both at the global scale and in Europe?
What can be appropriate responses from both the mitigation and the adaptation side?
How do decision-makers perceive high-end scenarios in specific places and for specific sectors?
How do solutions to high-end climate link with sustainable development and to a number of transformative changes outside of the climate domain.
The event was well attended by over 60 people ensuring an active and interesting debate on the risks arising from exceeding the 2oC policy "guardrail" as well as the economic, social and political opportunities for Europe by responding to climate change through adaptation and/or mitigation.
02.10.2015
On September 25th a set of global goals to end poverty, protect the planet, and ensure prosperity for all were adopted together with a new sustainable development agenda, during the United Nations summit, held from 25 to 27 September 2015, in New York.

More detail about the UN SDGs is available here. This image is copyright of the United Nations Department of Economic and Social Affairs. Permission for re-use is granted by the UN.
The 17 Sustainable Development Goals and 169 targets demonstrate the scale and ambition of the new universal Agenda. They seek to build on the Millennium Development Goals and complete what these did not achieve. They seek to realize the human rights of all and to achieve gender equality and the empowerment of all women and girls. They are integrated and indivisible and balance the three dimensions of sustainable development: the economic, social and environmental.
Goal 13 "Take urgent action to combat climate change and its impacts" specifically targets climate change, including the following targets:
Strengthen resilience and adaptive capacity to climate-related hazards and natural disasters in all countries

Integrate climate change measures into national policies, strategies and planning

Improve education, awareness-raising and human and institutional capacity on climate change mitigation, adaptation, impact reduction and early warning

Implement the commitment undertaken by developed-country parties to the United Nations Framework Convention on Climate Change to a goal of mobilizing jointly $100 billion annually by 2020 from all sources to address the needs of developing countries in the context of meaningful mitigation actions and transparency on implementation and fully operationalize the Green Climate Fund through its capitalization as soon as possible

Promote mechanisms for raising capacity for effective climate change-related planning and management in least developed countries and small island developing States, including focusing on women, youth and local and marginalized communities
15.09.2015
A new article on the European Environmental Agency (EEA) website discusses the relevance and importance of Sustainable Development Goals (SSGs).
In August this year, more than 190 countries reached a consensus on the 2030 Agenda for Sustainable Development. And later this month, Heads of State will adopt this Agenda along with its Sustainable Development Goals and targets in New York.
Unlike their predecessors, the Sustainable Development Goals (SDGs) are both for developing and developed countries and focus on a broader range of sustainable development topics. More precisely, 15 out of the 17 SGDs include elements related to the environment, resource use or climate change.
Read more on the EEA website: http://www.eea.europa.eu/articles/towards-global-sustainability
09.09.2015
International scientific conferences with the ambitious goal of motivating action on climate change can be overwhelming. In a Conference Brief the DRIFT and GATE (Governing and Accelerating Transformative Entrepreneurship) research team offers reflections on messages from the Paris Conference on climate change research "Our Common Future Under Climate Change".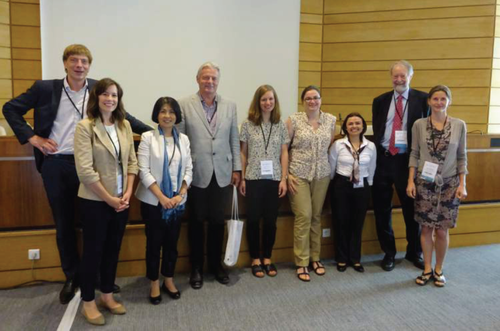 During the first two days of the conference keynote speakers set the scene for a common message: Climate change is happening and adaptation to extremes needs to be complemented with transformative actions.
Additionally during the 4 day conference, the team also observed that there are dominant ways on how climate change and governance for climate change are framed from the presenting researchers. Altogether 5 additional messages were identified:
Message 1: We need to escape the climate science communication lock in of doom and gloom towards creating narratives of hope and opportunity;
Message 2: We need to understand climate change as an opportunity for sustainability and the delivery of multiple co-benefits;
Message 3: Climate change is happening on multiple (nested, interconnected) scales involving multiple actors;
Message 4: Cities offer tested solutions to deal with climate change transcending sectoral boundaries;
Message 5: Climate scientists are navigating between science and policy/politics.
Read more about these messages and the discussion around them in the Conference Brief.