25.08.2014 - 27.08.2014
Third Nordic International Conference on Climate Change Adaptation (Copenhagen, Denmark)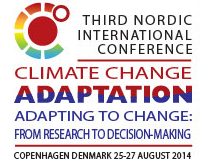 The Third Nordic International Conference on Climate Change Adaptation (nordicadaptation2014.net) is a follow-up to the highly successful conferences in Stockholm (2010) and Helsinki (2012) and aims to bring together scientists, practitioners and policy-makers with a particular interest in the Nordic region.
As highlighted in consecutive reports from the IPCC, there is overwhelming scientific evidence that anthropogenic climate change is taking place and the chances are high that future climate is going to change even more than what has already been realised. Impacts of changes over recent decades are likewise visible throughout the Nordic region, manifested e.g. through observed changes in the hydrological cycle, reductions in sea ice cover, lengthening growing seasons and the occurrence and strength of heavy rain events. Adaptation to these changes is already high on the agenda in the Nordic and international societies. However, science is providing new information on changes and their consequences, which calls for a wider dialogue to enable adjustments of already initiated adaptation plans as well as providing the baseline knowledge for future initiatives.
The conference "Adapting to Change: From Research to Decision-making" like its two predecessors seeks to advance existing common ground between scientists, practitioners and decision-makers and establish new ways forward for informed adaptation.
The conference is targeted at scholars as well as private and public practitioners and decision-makers at strategic and operational levels and across a wide range of disciplines and sectors. This includes researchers and professionals within the fields of climate change, climate change impacts and adaptation, students, regional and local planners, business strategists and risk managers and policy-makers as well as representatives of NGO's and Nordic/international organizations. While some sessions will have a definite Nordic focus, the conference - just like the field of climate change adaptation is by no means restricted to the Nordic region. We cordially invite and strongly encourage international participants to join and share their experiences.
The deadline for abstract submission has been extended until April 15, 2014.
The second circular may be downloaded here

Contact information:
Jens Hesselbjerg Christensen
http://nordicadaptation2014.net/

Print this article