"The Bond You Hold" is a innovative theatre performance embodying the dynamic relation between climate and humans, in a world beyond 2oC warming.
Climate change is an environmental, cultural and political phenomenon propelling transformations on ways of thinking about ourselves, our relations to the biosphere and our common futures. We need novel imagery and embodied experiences to find new ways of thinking and acting in relation to climate change.
High-end climate scenarios (futures where we trespass the 2oC warming threshold) are increasingly more likely. But how would that world look like? Arts have an important role to play in creating spaces and experiences that support this exploration.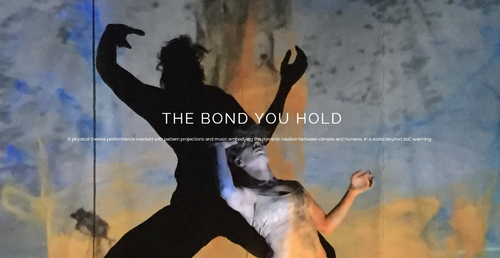 "The Bond You Hold" is a compound process that integrates cutting-edge climate change knowledge through a knitted series of collaborations with an international group of climate and social scientists within EU-funded project Impressions leading to the development of this multi-sensorial physical theatre performance.
Impressions workshops will advance understanding of the implications of high-end climate change and to help decision-makers apply such knowledge within integrated adaptation and mitigation strategies.
Scientific content for the performance is provided by Impressions researchers David Tàbara and Kasper Kok.