This week, from 7-10 July, the International Scientific Conference "Our Common Futures Under Climate Change" took place in Paris, France. This four-day Conference is the largest forum for the scientific community to come together ahead of the COP21 of the UNFCCC in 2015 .It addresses key issues concerning climate change in the broader context of global change.
IMPRESSIONS co-organised a session entitled "A world above 2°C global warming: understanding risks and developing transformative solutions" which was attended by more than 70 people. The session discussed limitations to conventional climate assessment approaches and the new approaches integrating science and policy for transforming global climate governance.
Click on the image below to see the presentation from the session: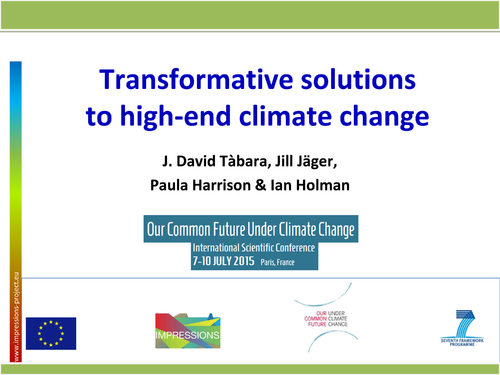 Download presentation here.
IMPRESSIONS was also presented at the meeting via a specially designed poster "Orchestrating Adaptation, Mitigation and Transformation" created and presented by project partners Dutch Research Institute for Transitions (DRIFT), the Erasmus University Rotterdam, Netherlands . The poster looks at how agents shape the capacities for integrated climate governance that links mitigation, adaptation and transformation goals and actions towards promoting resilience and sustainability.
Click on the image below to see the poster: