Dutch Research Institute For Transitions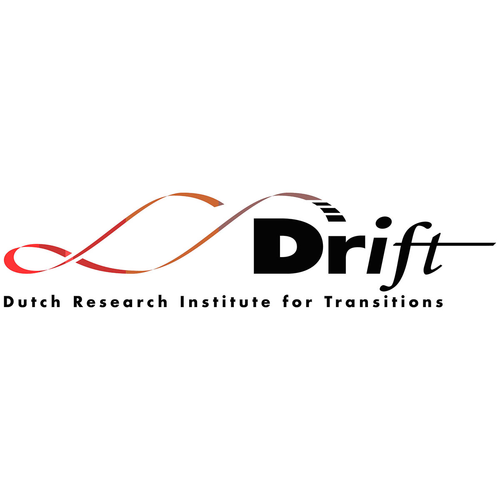 WHO WE ARE
DRIFT at Erasmus University Rotterdam is the international leading institute in the field of Sustainability Transitions and especially Transition Management. DRIFT is a multi-disciplinary team of researchers committed to sustainability research and sustainability transitions research at multiple levels from neighbourhoods to cities to regions to the planet level, working in an inter-disciplinary, trans-disciplinary and inter-paradigmatic way. DRIFT combines cutting edge research with close cooperation with policy and business to further sustainable development in practice. DRIFT is involved with, has led and leads a number of inter- and trans-disciplinary research projects on urban sustainability and sustainability transitions.
WHAT OUR EXPERIENCE IS
Involvement in local, national and international projects concerned with energy, water, food, urban areas and other utility sectors.
Application of Transition Management (TM) as a governance approach which can be used analytically to map the transition issues for models, structure the problems of unsustainability, and identify the factors and actors in a participatory process for developing transition pathways.
Research on sustainability agendas and matching socio-political and socio-economic needs with emerging innovations of all kinds (governance, social, economic and technological).
Action research on co-creating enabling conditions for transition experiments and social and governance innovations.
Interpretative and engaged (action) research on governance for sustainability transitions including, but not limited to, collaborative arrangements (partnerships) and new generation governance (community owned infrastructures).
Research on politics of sustainability transitions with a focus on self-organisation dynamics of transition initiatives, on inclusivity and justice of innovations that alter the speed of change and on actor-centred dynamics of transitions.
WHAT WE DO IN IMPRESSIONS
Co-lead WP4 on the development of Adaptation and Mitigation Transition Pathways across scales, with multi-sectoral and time-dependent elements.
Design a stakeholder-led methodology linking tipping points and uncertainties across scales (enhanced TM approach) (collaborating with WP2 and WP3).
Organise stakeholder workshops in each case study to generate a suite of harmonised multi-sectoral pathways (together with WP6).
Formulate mechanisms to connect adaptation and mitigation pathways (WP5).
Assess the adequacy of adaptive capacities to implement adaptation pathways (collaborating with WP5).
WE ARE ALSO INVOLVED IN
ARTS
TRANSIT
SUSTAIN
URBES
InContext
MUSIC
iMVO
MATISSE
PARTNER'S POSTER
Dr. Niki Frantzeskaki

Senior researcher and lecturer on Sustainability Transitions
Researcher on transition dynamics of national, regional and local infrastructure systems and their governance
Research leader in trans-disciplinary projects on urban green and blue infrastructure governance in Europe, Australia and Africa
Research leader in multi-disciplinary project (ARTS) on societal challenges for accelerating transitions in European Regions

MSc. Katharina Hölscher

Doctoral Researcher on Transition Management for adaptation and mitigation action to climate change
Interdisciplinary researcher on environmental science, policy, politics and governance with a passion for sustainability oriented research
Analytical and interpretative researcher on the process of transition management at the urban scale

Prof. Derk Loorbach

Professor of Socio-economic transitions to sustainability
Founder of Transition Management approach and thinking
Research leader on transition management application projects in Netherlands, Belgium and Japan
Research leader on European-African collaborative projects on transforming business models towards sustainability in SMEs